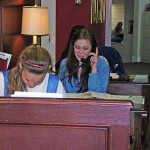 On Monday, April 25, Rutledge Properties offered its office and phones to the class of 2012 of Wellesley High School to conduct their phone-a-thon for the Junior Class Auction which will take place on Saturday, April 30 from 7-9:30 pm.
Several students occupied the desks in our office to place calls to parents reminding them of the upcoming auction which supports Junior class activities.
Class Junior Mom Susan Hutchinson reported the following: "Nothing less than fantastic! What a great group of kids showed up tonight. We enjoyed tons of yummy ice cream, courtesy of J.P.Licks and made a ton of calls. It took us less than 90 minutes to cover the entire class list! 20 Kids made over 300 calls tonight. Let the games begin, Saturday night here we come! Many thanks to Rutledge Properties for arranging the perfect venue."
The Junior Class Auction website highlights 4 different items which can be bid on in advance of the Saturday auction:
One Week Vacation in Costa Rica
Autographed Tom Brady Jersey
Autographed Ovechkin All-Star Jersey
Autographed Ray Allen Jersey
Come on out on Saturday, April 30 from 7-9:30 pm at Wellesley High School. We at Rutledge Properties are pleased to offer our support through agent Connie Bashian.