According to the National Association of Realtors, curb appeal sells 49 percent of all houses. That means that the exterior of your house can influence your selling success as much as, and sometimes more so than, interior staging and competitive pricing. If you are considering selling your home, you will want to pay special attention to your exterior spring clean-up this year.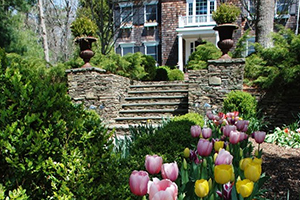 If you are not selling your home, curb appeal is still important because it continually influences how you feel about your home. There's nothing more satisfying than driving up to your home or spending time in your yard when the gardens are cleared of leaves so that the spring flowers grab your attention and all the winter debris is gone. Dedicate some time to spring clean-up and enjoy your home's enhanced curb appeal all spring and summer.
Here is a spring clean-up checklist for the exterior of any home:
Wash your windows.
Clean out your gutters and drain spouts.
Wash the glass of all exterior light fixtures, making sure to remove insect remains and debris from the interior base of the fixtures.
Sweep your front porch, driveway and patio to get rid of any lingering leaves from the fall.
Hose down your driveway, front porch and walkways to remove any sand or de-icing products.
Remove any winter tie-ups or wraps from your plants. Remove any leaves or winter protection from your garden beds.
Remove winter displays from your outdoor containers or bring your containers out from winter storage. Plant spring flowers as soon as the weather becomes temperate enough.
Put away, or restow shovels, snow blowers, sleds, skis and any other items you won't need until next winter.
Here are some additional details to pay attention to if you are preparing to sell, or have already listed, your home:
Wash down your front door and garage doors. If they are faded, repaint them. Take care to repaint when the outdoor temperature is warm enough (check the pain can) to ensure a good result.
Clean and polish the hardware on your exterior doors, especially the front door.
Clean your mailbox. Consider replacing it if it has weathered and faded.
Clean your house numbers. Consider replacing them if they have weathered or are not easily visible from the street.
Set-up your outdoor patio, including the grill and furniture, to showcase the potential of that outdoor space.
Remember, curb appeal will set you apart from other homes on the market if you highlight the best features of your house and downplay its less attractive aspects. Be careful to balance curb appeal and cost. Use a critical eye to see when to add an element, like additional plants, to your curb appeal and when removing a feature might be more effective. Finally, make sure you consider your houses' curb appeal during both daylight and evening since potential buyers might drive by after work to decide whether to make an appointment to see the interior.
Need a Guy?
Rutledge Properties has dependable, timely referral for all the trades. If you need help with any aspect of your spring clean-up contact us for names!